Two decrees of the Ministry of Labour, Social Affairs and Family of the Slovak Republic ("MPSVR SR") were published in the Collection of Laws, which increase the amounts of meal allowances and the amounts of basic compensation for the use of motor vehicles on business trips. Ministry has amended the previous regulation as a response to the increasing prices of food and beverages in restaurants as well as costs related to the operation of vehicles. In this article, we provide an overview of the changes effective as of 1 May 2022.
MPSVR SR issued on 7 April 2022 in accordance with the Travel Allowances Act, a new Decree No. 116/2022 Coll. on the amounts of the meal allowance. It determines the new amount of meal allowance for business trips, which we have already covered in our previous Article.
As of 1 May 2022, this change will also affect the employer's contributions to all forms of meals. In this context, the minimum employer's contribution increases from EUR 2.11 to EUR 2.48 and the maximum employer's contribution increases from EUR 2.81 to EUR 3.30. Higher amounts of meal allowance apply to each of the legal meal forms. The new Decree also affects the minimum value of the meal voucher to EUR 4.50. It is still possible to contribute the employees from the Social fund, with no limitation.
Please note that the financial contribution or meal vouchers must be provided to employees in advance, i.e. for May they should be provided already in April. Many companies are unable to respond timely to these changes. It may also be more complicated to reduce the entitlement for holidays or other days where the entitlement is related to the months in which the old amount was still valid (especially at the turn of month April and May).
The main changes we summarize as follows: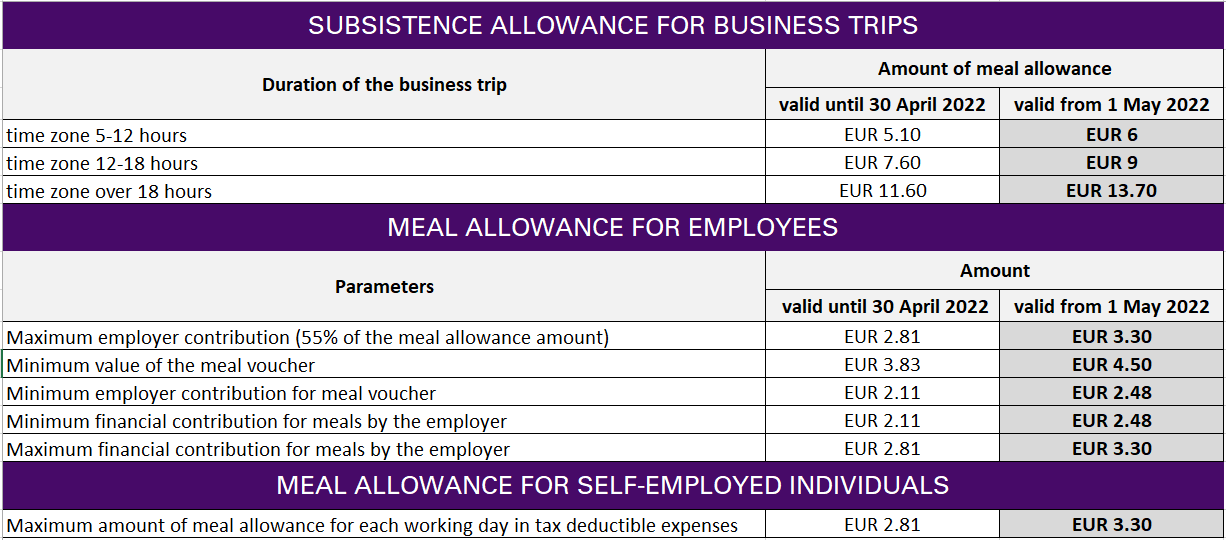 MPSVR SR also made changes to other Decree No. 117/2022 Coll. changing the rate of basic compensation for the use of road motor vehicles on business trips. Employees are entitled to increased reimbursement for each kilometer traveled on a business trip by their private vehicle:
• from EUR 0.053 to EUR 0.059 for two-wheeled vehicles and tricycles,
• from EUR 0.193 to EUR 0.213 for road motor vehicles.
Both measures become effective as of 1 May 2022.
Do you have a question? Write us.
Our experts will answer your questions
Ask us